Over the years, job boards have made it easier to apply to jobs - but easier is not always a great thing. From the beginning, employers have asked us questions like "How can I get more information from my applicants?" or "Is there a way to sort through applicants more quickly?" We heard the need for "pre-screening" assistance and we responded by creating one of the industry's first pre-screening systems.
How does it work?
Employers have the option to utilize this resource when posting their jobs by simply adding up to 5 pointed questions to their job postings that are designed to gather more information about the job seeker's skills, abilities and even their "cultural fit" with the employer. Questions may be posed in multiple choice, true/false, yes/no and open-ended text. The information gathered helps recruiters know which candidates to look at first based on a percentile ranking and helps qualify candidates before they even respond.
Do they have to be used on all jobs?
Absolutely not, in fact there are many times we don't recommend them. Our Jobing.com team can help you with more details for your specific job.
$275
Single Posting w/PreScreen
$--
Job Posting Bundle with PreScreen
(add $50 per Job)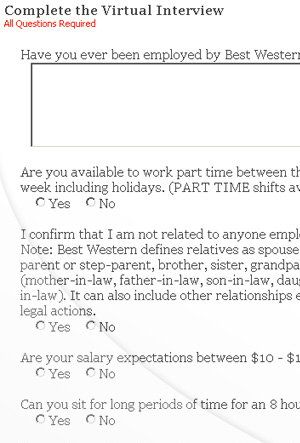 If you are looking to add PreScreen questions to your
subscription package
, please contact your local Austin team at 512.219.9620.